Tropical Cable and Conductor Limited (TCCL) is committed to excellence in the manufacture and marketing of cables and conductors and to achieving customer satisfaction.
In this regard, we :
set and review quality objectives at relevant functions,
utilise the best available human, machinery and material resources to manufacture our products efficiently,
satisfy and comply with applicable requirements related to our industry, products and services as applicable
continually monitor and analyse customer feedback and process performances with the aim to enhance customer satisfaction,
maintain environmentally friendly and sustainable manufacturing practices,
continually review and improve our quality management system.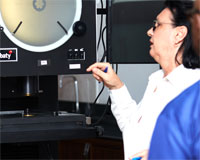 Overall Quality Objectives

Effectively maintain and continually improve the established Quality Management System based on ISO 9001: 2015 requirements throughout the organisation.
Provide our customers with safe and reliable products certified by Ghana Standards Authority as per statutory and regulatory requirements, and also certified by other international bodies as applicable, conforming to customer requirements at all times;
Be customer focused by achieving 100% delivery commitment.
To continually develop our workforce through training.
To minimise waste and scrap levels of raw materials.